Why Enterprises Adopt RPA, Benefits Gained, and ROI Outcomes
At Optezo, we have a lot of good things to say about UiPath – the end-to-end enterprise automation platform that delivers governance, security, scalability, and performance – because we've seen it transform our clients' ability to compete and grow. But it's also nice to have an outside source available to verify what we witness every day.
Forrester Consulting was recently commissioned by UiPath to conduct a Total Economic Impact™ (TEI) study and examine the potential benefits and return on investment (ROI) enterprises could realize from a UiPath Platform deployment. The purpose was to provide organizations considering RPA solutions with a framework to understand the potential financial impact.
Decision makers at four enterprises were surveyed and the aggregate responses were used to create a composite organization to derive results. Here's what the survey discovered:
Why Do Enterprises Make the UiPath Leap?
RPA is a rapidly-maturing technology and its benefits are well understood, however it often still requires a push in the right direction to get leadership fully committed. What are the operational and strategic challenges that accelerate enterprises toward exploring UiPath-based RPA solutions? The Forrester study notes that each of the sampled organizations contended with similar challenges which guided them toward implementing UiPath:
"The study is clear; enterprises have much to gain from RPA and the UiPath Platform.."
Pressure to reduce costs. Both competitive market forces and investor concerns pressured the organizations to reduce costs, particularly in finance, customer service, and IT workflows.
Burden of repetitive, time-consuming processes. The costly expenditure of time, resources, and organizational energy on tedious manual tasks (confirming addresses, data input, invoice management, etc.) demanded better processes.
Need to reduce errors. Routine manual data sharing and migration tasks were a vector for errors that required time and effort to resolve, or led to even more costly procedural and compliance errors.
Need for a scaling solution. Automation benefits were well understood, additional requirements were to ensure scalability and ease of enterprise-wide adoption.
Breaking Down UiPath Benefits
The Forrester study demonstrates three key quantified benefits that the composite enterprise was able to capture thanks to UiPath:
Productivity gains. Over the course of three years, the composite enterprise achieved 350,000 hours total freed up for employees to spend on more productive tasks. Eliminating manual, repetitive, data-based tasks provided a massive boost to enterprise productivity.
Reduced costs, faster time to value. For data-intensive IT projects, moving away from manual workflows drastically reduced costs for data migration and accelerated project completion, typically by +50% or more. Automation supported substantial bottom line results.
Reduced errors and compliance issues. Automating data-based workflows has many associated benefits, including time saved verifying and correcting data, fewer compliance issues, reduced exposure to fines and penalties, and improved workflow efficiency.
Add in unquantified benefits of improved employee and customer experiences, and it's easy to see how the composite organization came out ahead from an operational standpoint.
Calculating ROI Outcomes
Bottom line: did a UiPath investment make sense for the composite organization? Following are the risk-adjusted value gains from the noted benefits:
Productivity gains: $7,703,000
Reduced costs: $2,238,000
Reduced errors: $2,141,000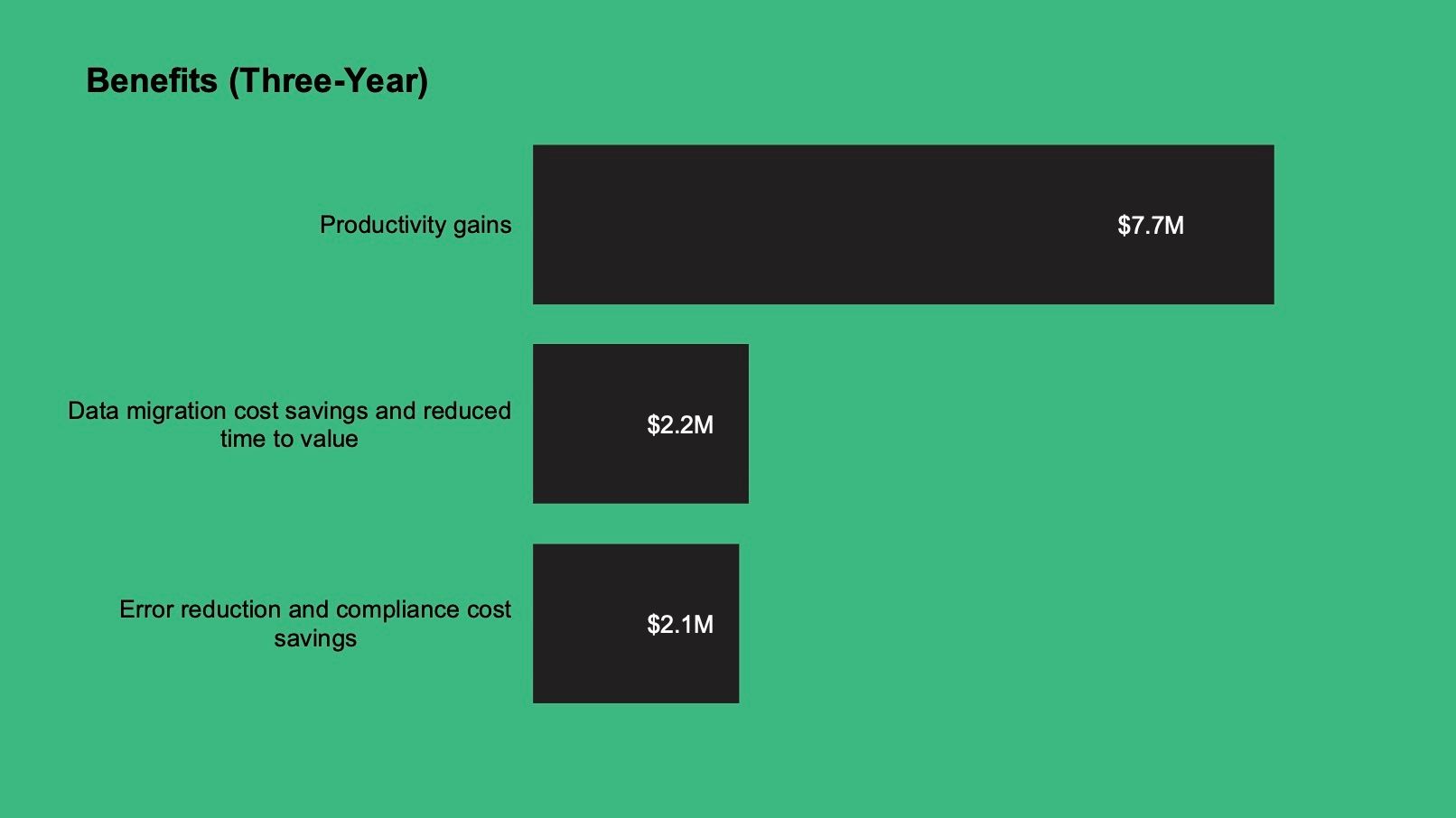 Benefits total value of $12.08M over three years, against costs (licensing fees, planning and implementation costs, etc.) of $6.14M, which comes out to an ROI of 97%.
The study is clear; enterprises have much to gain from RPA and the UiPath Platform, from substantial ROI to workflow and user experience benefits, and more.
Read the Full Forrester Report today.
Optezo Makes End-to-End RPA Happen
Fast track your way to the substantial benefits of RPA and the UiPath Platform, including substantial ROI and a solution that scales easily and reliably. Contact the Optezo team today to receive a quote customized for your enterprise automation needs.