White paper
How to Be Successful in RPA
Learn how to overcome the challenges of automation to create a successful program and realize the true potential of RPA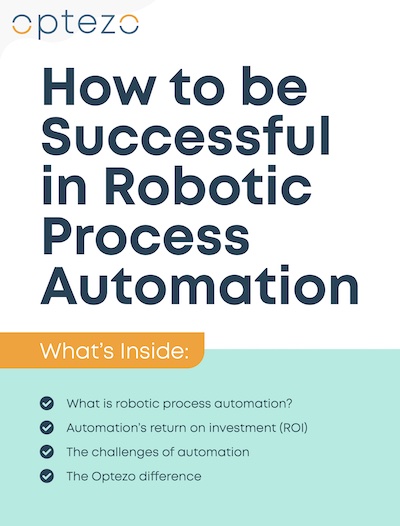 Unlike humans, who need breaks to eat, sleep, and take breaks, RPA robots happily work 24/7/365, and with flawless precision. RPA is your fast-track to ROI. RPA robots can perform routine tasks like data sorting, inputting, and retrieval so your employees can be more human, and focus on being responsive to the needs of customers, partners, and each other.
The savings from RPA are huge, and ongoing.
But not every process is suited for automation, and building an automation program can be fraught with missteps.
This Optezo white paper provides answers to your most important questions about properly executing an RPA program including:
A primer on Robotic Process Automation
How to think about and measure the Return on Investment (ROI) of RPA
The typical automation challenges you will likely run into
How to execute a successful, highly efficient, and high return RPA Program
Download the white paper now and discover how to be successful in robotic process automation.