White paper
2022 Trends: Automation Accelerates
See what's pushing automation forward faster than ever – and discover how you can keep ahead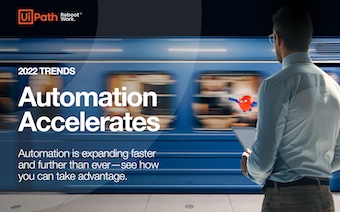 2022 is the year automation comes into its own. Businesses are ready, the technology is falling into place, and all that's left is for you to jump in and start reaping the benefits. But, before making any investment, it's good to know where we are today—and what's speeding around the bend.
Recently, UiPath interviewed a variety of experts—analysts, partners, customers, our own team—and distilled their thoughts down to 10 key trends that will define the near (and far) future of automation.
Download "Automation Accelerates" to get the full detail on these trends, along with advice for helping your business make the most of each. Key topics include:
Innovations in automation technology, including task-based workflows, semantic automation, and RPA-plus platforms
Advances in automation adoption, from CIOs to CSOs to HR to CoEs
Strategies for automation optimization, with step-by-step processes, things to watch out for, and the goals you should be setting
Automation is accelerating — and it's only going to move faster and faster. Get the info you need to get on board today — read the report.