When you rely on Robotic Process Automation (RPA), your employees can teach robots to do the work they hate, which frees them to do more meaningful work.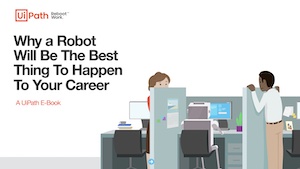 The automobile and banking industries hold powerful lessons for how we should view game-changing technologies like Robotic Process Automation (RPA) today.
RPA enables robots to mimic human actions with tireless precision. They log into applications, move files and folders, copy and paste data, fill in forms, extract data from documents, and more. Forrester estimates that by 2021, more than 4 million robots will perform office and administrative work as well as sales and related tasks.
Does that mean robots will replace you? Me? All of us?
Find out what horses and ATMs can teach us about the answer. Download the free ebook, Why a Robot Will Be the Best Thing to Happen to Your Career, published by UiPath, the highest-rated RPA technology platform in the market.
UiPath makes robots so people don't have to BE robots. The company has already automated millions of repetitive, mind-numbing tasks for organizations all over the world including more 50% of the Fortune 500 and 8 of the Fortune 10.
Optezo has direct support from UiPath to scale your digital business operations at unprecedented speed. Ready-made, flexible automation solutions enable you to automate faster without disruption and quickly accelerate productivity and efficiency, capture actionable business insights, and improve customer experience and employee satisfaction.
Read the ebook, Why a Robot Will Be the Best Thing to Happen to Your Career, and discover why the only thing robots take from our jobs is monotony.